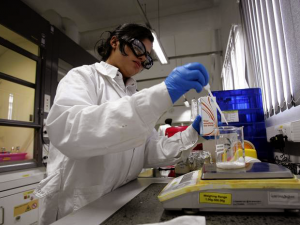 Food testing laboratories play a very important role in this whole process. Food products tested can range from processed foods to agricultural commodities, from the field to the store. The testing can be done on raw materials, the product during its processing and production, as well as the finished products.
Functioning of Food Testing Labs in India
Food testing labs in India function within the aegis of the Food Safety and Standards Act, 2006 (FSS Act) that has consolidated the laws relating to food and established the Food Safety and Standards Authority of India (FSSAI). The FSSAI lays down standards along scientific lines for articles of food and regulates their manufacture, storage, distribution, sale and import, and ensures availability of safe and wholesome food for human consumption. The FSSAI notifies food testing labs accredited by NABL for the purposes of carrying out analysis of food samples. The FSSAI establishes or recognises one or more referral food laboratories to carry out its entrusted functions. The food testing labs appointed by the Commissioner of Food Safety, analyses the food samples and submits the report within a period of 14 days from the date of receipt of any sample, failing which, it has to justify the reason for the delay.
Food testing labs are very important in the entire product approval process, literally from "start to finish". They generate all the food analysis data as well as safety data (from clinical trials) that is required in the application process. Further, Section 22 of the FSS Act indicates that food analysis data should show data on ingredients. Other parameters include label claims (such as in energy drinks, and functional foods like dietary and health supplements) and shelf-life study data.
Location of Food Safety Labs
There are currently 68 NABL accredited, FSSAI notified food testing labs in India, as per the latest list as of July 16, 2014. These are distributed pan India, across four geographical regions. In the Northern region there are 21 food testing labs. In the Southern and Western regions there are 22 labs each. The Eastern region is grossly under-represented, with only three testing labs, all of which are in Kolkata. There are no food testing labs in any of the other states in the Eastern region, indicating a severe lack of infrastructure in this geographic region. Therefore, there is an urgent need to augment the food testing infrastructure in the eastern states of India, in particular, the North-East.
Services Provided by Food Testing Labs
Food testing labs provide services that:
Ensure that products are in compliance with Food Safety and Standards Act, Rules and Regulations for food and food products.
Protect the brand equity and consumer loyalty by delivering healthy and safe food.
Protect consumers from any contaminated, modified and unhealthy food.
Ensure correct storage, shipping, packing and distribution of commodities, food ingredients and food products.
The food testing labs provide services in all areas of food testing, including the following categories:
Food Adulterant Testing: This includes testing for all sorts of adulterants, including artificial colouring agents, bulk-forming agents, texture altering agents, additives and preservatives.
Chemical Contaminant Testing: These include a variety of substances, including organic contaminants like fertilizers, pesticides, herbicides and animal tissues; and inorganic contaminants like antimony, arsenic, asbestos, barium and cadmium.
Microbial Testing: Food borne illnesses are caused by pathogens, which include naturally occurring bacteria, viruses, parasites, and toxins (mycotoxins and seafood toxins). For bacteria, which are the only pathogens routinely tested for in food samples, the testing is done for specific types of bacteria, using a variety of methods, including bacterial culture, gene probes, manual assays, as well as automated assays.
Drug Residue Testing: Drugs, especially antibiotics are given to poultry and other animals for disease prevention and production of better quality meat. The residues of these drugs can still remain in the meat and enter the human food chain. Therefore, there is a need to test the levels of these drug residues to check whether the levels are within safe permissible levels.
The FSS Act requires testing of food articles to be done once in every six months through own or NABL accredited/FSSAI notified lab.
FSSAI Recognition of Food Testing Labs
All food testing labs in India have to be recognised by the FSSAI. The FSSAI recognises three types of labs, namely, Level 1, Level 2, and Referral lab. The Level 1 lab is competent to carry out the complete analysis as per the FSS (Food Products Standards and Food Additives) Regulations, 2011. The Level 2 lab is competent to carry out the complete analysis as per the FSS (Food Products Standards and Food Additives) Regulations, 2011 and FSS (Contaminants, Toxins and Residues) Regulations, 2011. The Referral lab has competence to carry out the analysis as per the Level 2 lab. In addition the Referral laboratory must have the competence on other parameters like R&D capabilities, training facilities and to perform other functions like analysis of samples, and investigation in collaboration with other labs, including those in the Private Sector. Currently, there are four referral labs in India along with other notified labs run by the Government of India.
All laboratories have to follow scientific protocol for food testing and maintain high standards of accuracy, reliability and credibility in the operation of the laboratory and achieving and maintaining the required levels of accreditation and reliability together with high professional standards and discipline.
NABL accreditation to ISO 17025 is a pre-requisite before the authorisation of food testing laboratory by FSSAI.
NABL Accreditation of Food Testing Labs
The National Accreditation Board for Testing and Calibration Laboratories (NABL) is an autonomous body under the aegis of the Department of Science and Technology, Government of India. NABL has been established with the objective to provide Government, industry associations and industry in general with a scheme for third-party assessment of the quality and technical competence of testing and calibration laboratories. The Government of India has authorised NABL as the accreditation body for Testing and Calibration Laboratories as per ISO 17025. The major sectors in which NABL has granted accreditation are textiles, automobiles, power, telecom, petroleum, food, health and environment. More than 1600 laboratories have NABL accreditation, out of which 20 percent are government labs. Currently, there are 87 NABL accredited food testing labs authorised for chemical testing of food products and 98 NABL accredited laboratories for biological testing of food products in India. Importantly, since the number of food testing labs in the public sector is comparatively less, the labs in the private sector become all the more important.
The Way Forward
It is quite evident that the basic machinery for food safety and food testing in India, such as the FSS Act, FSSAI recognition and NABL accreditation mechanisms, and the food testing labs themselves, are all in place. However, India still needs a few other essential components in order to streamline the food testing industry and place it on a solid foundation.
Need for more PPPs: There is a need for the Government of India to initiate more Public-Private-Partnerships (PPP), by which more food testing labs can be established in order to proportionately cover the entire country, considering the fact that currently, there is disproportionate distribution of these food testing labs. These PPPs will help to increase the number of food testing labs in the public sector, which is already very low, and also boost their numbers in the private sector, which caters to most of the FBOs in the country.
Need for more Trained Manpower: There is a lack of trained manpower in the area of food technology. Therefore, there is a requirement for tailor-made courses that can cater to this particular niche. Training should be imparted so that multi-tasking abilities can be nurtured in order for the trainees to handle a wide range of instruments that will equip them to tackle complicated tasks in shorter time. Currently, there is a dearth of such courses in India for training manpower for the food testing industry.
Need to Manufacture Equipment Indigenously: Moreover, all the equipment used for food testing currently has to be imported from abroad, which increases operation costs astronomically. However, there is a glimmer of hope. The recently launched "Make in India" national campaign by Prime Minister Narendra Modi, which aims to transform India into a global manufacturing hub, has the potential to be a game-changer and lead to the manufacture of food testing equipment indigenously in India, at a fraction of the cost. Indeed, this has the potential to revolutionise the food safety and food testing industry in our country.